Overview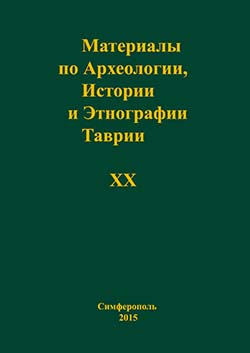 The journal Материалы по археологии, истории и этнографии Таврии (МАИЭТ, MAIET, literally translateable as the "Materials in Archaeology, History and Ethnography of Tauria") publishes from 1990 on annual basis. Its founder was the Ethnic Hisdtory of the Crimea Research Laboratory at the Simferopol State University. From 1992 on, the promoter is Crimean Brance of the A. E. Krymskii Institute of Oriental Studies of the Ntional Academy of Sciences of the Ukraine (Simferopol), which in its turn was created on the base of the Laboratory. The journal was registered with the Ukraine's authorities as a mass media, and was inscribed on the Higher Academic Commission of the Ukraine's list of journals where to publish main research materials of dissertations sumbitted for the degrees of candidate and doctor of sciences in history. From 2015 on, the publisher of the journal is V. I. Vernadsky Crimean Federal University. The journal has been registered with the Federal Service for Supervision in the Sphere of Communication, Information Technologies and Mass Media. From the very establishment, the journal is edited by Dsc, Prof. A. I. Aibabin, now the Director of the History and Archaeology of the Crimea Research Centre, and the editorial board comprises respected russian and Foreign researchers.
The journal is included into Web of Science Core Collection (Emerging Sources Citation Index) (http://mjl.clarivate.com/cgi-bin/jrnlst/jlresults.cgi?PC=MASTER&Word=*Materialy%20po%20Arkheologii%20Istorii%20i%20Etnografii%20Tavrii).
The journal is listed in the Russian Science Citation Index (https://elibrary.ru/title_about.asp?id=27084).
The Journal into the international information analytical system of scientific quoting «European Reference Index for the Humanities» (ERIH PLUS), i.e. the European Science Foundation database, which is running by means of Norwegian Social Science Data Services (Norway) (https://dbh.nsd.uib.no/publiseringskanaler/erihplus/periodical/info?id=490979).
Mission
The journal publishes original scholarly papers in archaeology, history, and ethnography of the Crimea and the northern Black Sea area, in Russian, English, German, and French. The journal's main goal is to inform academic community on new results and achievements in the field of the journal's scholarly interests.
The journal's main sections are:
Archaeology: includes publications of new archaeological monumetns and sites, as well as papers addressing history of ancient and mediaeval Crimea.
Numismatics and Sigillography: comprises publications of new numismatic and sigillographic monuments.
History: suggests publications of written sources, archival materials, and papers discussing the history of the Crimea.
Ethnology: publishes ethnological materials and papers addressing the ethnography of the Crimea.
Reviews of scholarly works.
Personalia: contains jubilee materials and greetings.
Memoria: obituaries.
Impressum
The journal is published by the V.I. Vernadsky Crimean Federal University.
The academic edition is made by the the History and Archaeology of the Crimea Research Centre.
Editor-in-chief: DSc, Prof. Alexander Aibabin.
ISSN: 2413-189Х.
Frequency: one volume a year.
Volume: 23 to 50 quires.